Snorkeling & Spectacular Sunsets
Culebra > Culebra Beaches >  Melones Beach / Playa Melones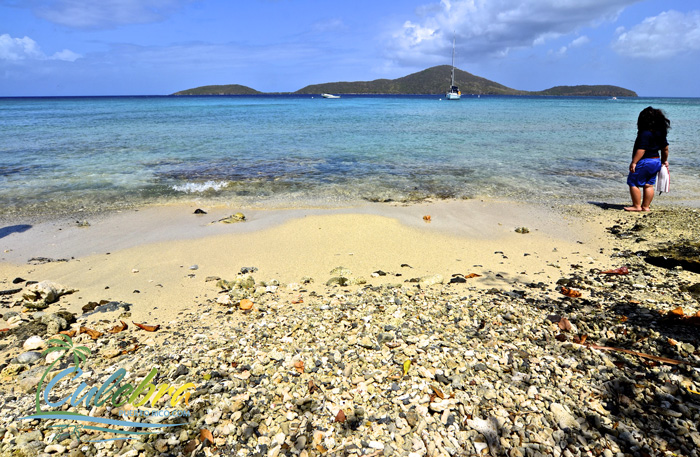 Just a short drive from the ferry terminal, you can visit Melones Beach, one of the best spots in Culebra for watching the sunset and offering easy access for a snorkeling adventure.  Playa Melones is part of the Cayo Luis Pena Natural Submarine Reserve, no fishing allowed.
Please help us keep Melones beautiful and healthy by not leaving trash at the beach.  While snorkeling, never touch anything at the reefs, step on or take away.
The beach area is small, made up of sand, coral rocks and pebbles. There are a couple of trees offering shade and a picnic table under two picturesque palm trees.  Across you can enjoy close up views of Luis Pena Cay, a perfect backdrop to the sun setting.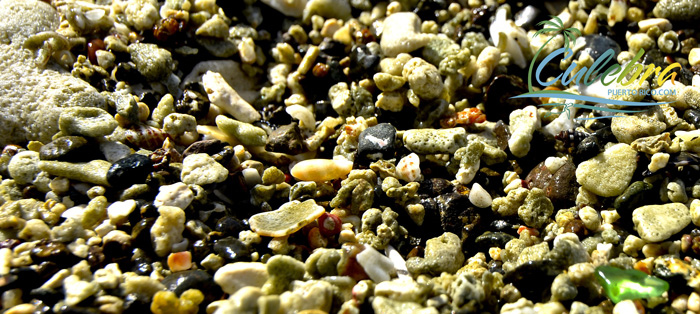 Romantics and sunset lovers head to Melones before dinner as a perfect prelude to a relaxing casual dinner in town.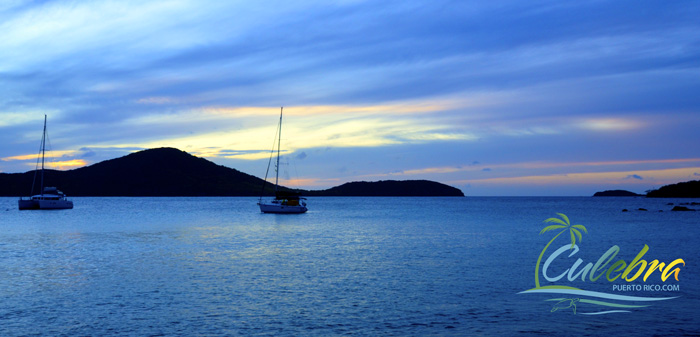 Opt to pick up dinner to go and bring it to Melones for a romantic casual dinner al fresco.  Get here early to get the picnic table, the only one here.  You'll be serenaded by coquis, birds and the sounds of the waves.  Bring some candles and enjoy an inexpensive romantic dinner to the golden glow of an unforgettable sunset.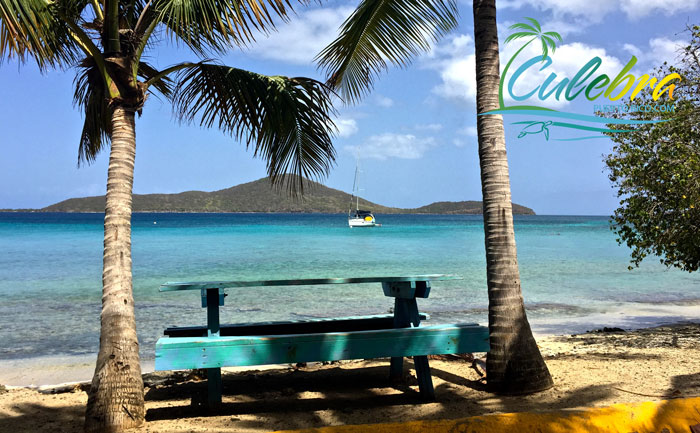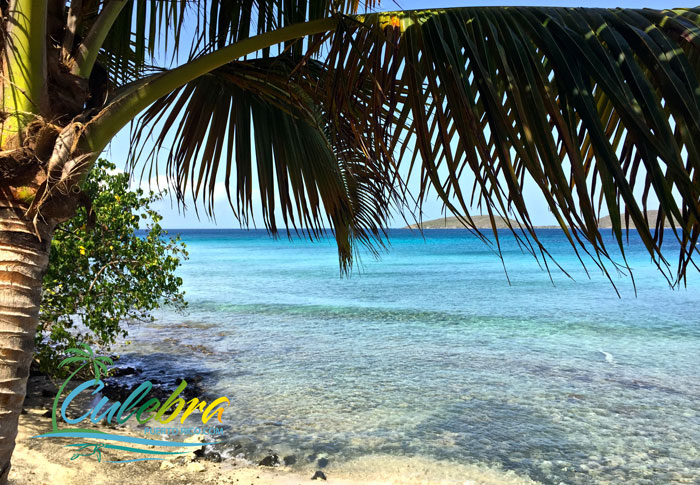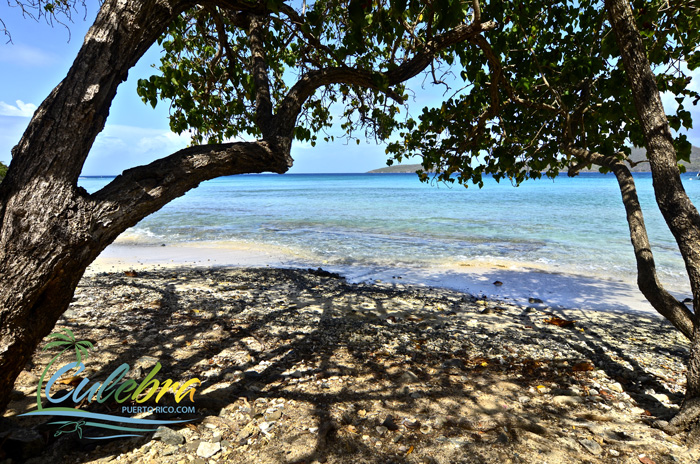 The waters at Playa Melones are very clear and the waves gentle, a bit stronger during the winter months.  This is not really a beach for bathing, as soon as you walk on the water, you'll be stepping on coral and stones, be sure to wear diving shoes to protect your feet.  If you're bringing children be sure to keep an eye on them at all times, there are no lifeguards at Melones.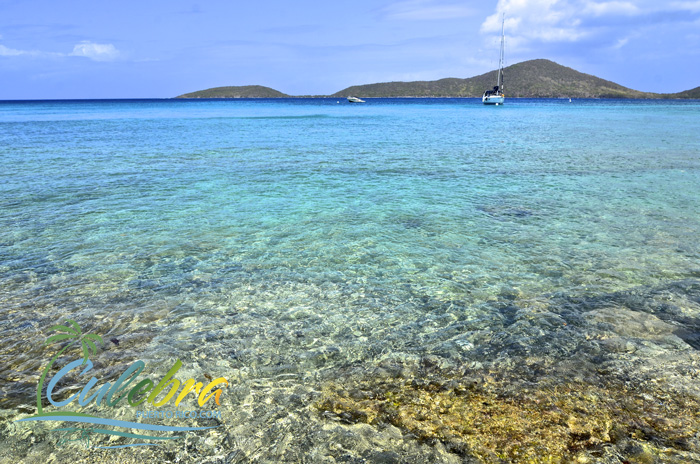 If you're in Culebra for the day, want to snorkel and have limited time, Melones beach is a nice choice for the ease of access.  The best snorkeling spot is on the right side of the beach just over the boulders you see in the middle on the photo below.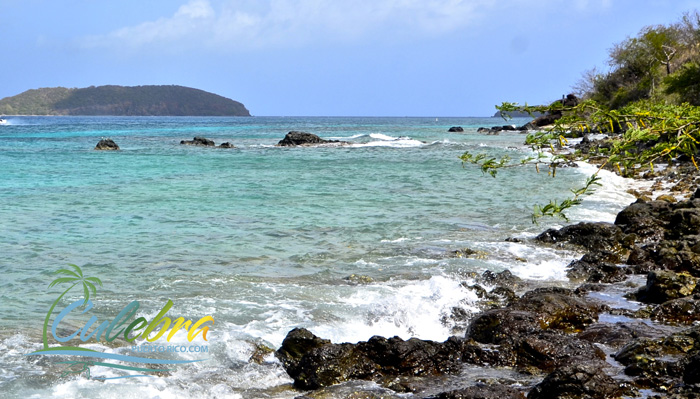 You'll float over a coral reef garden with a healthy variety of tropical fish in stripes and vivid colors.
Again, please help us protect our reefs by never touching, stepping on, or taking anything away.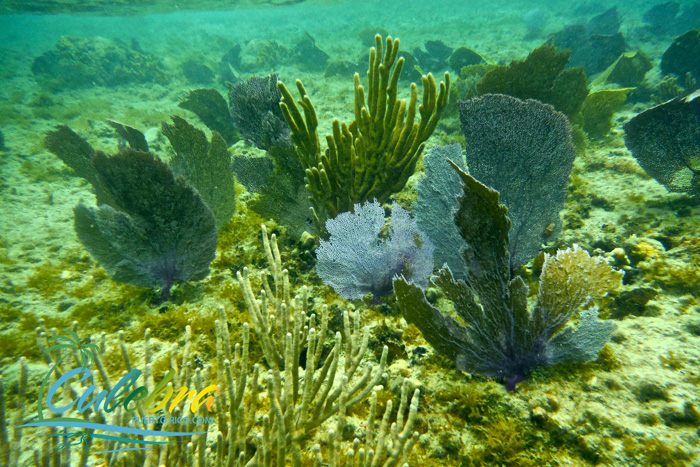 We hope you enjoy your visit to Melones as much as we do. Please help us keep it beautiful and healthy by not leaving trash at the beach.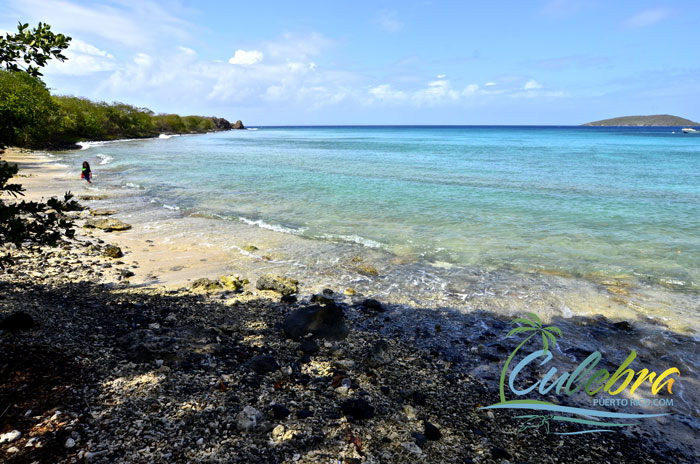 Teaser Photo Gallery of Melones Beach / Playa Melones, Culebra, Puerto Rico
Map Location of Melones Beach, Isla de Culebra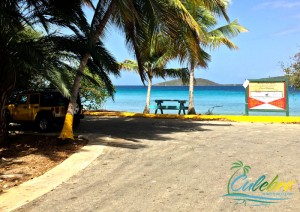 From the ferry terminal heading into town, make the first left, go up hill and keep driving towards the left.  Follow the road along the coast with sweeping views until the road ends.
Click 
for Full page map – Map Use Instructions
Culebra > Culebra Beaches >Melones Beach / Playa Melones