Puerto Rico > Culebra > Culebra Puerto Rico Beaches >  Flamenco Beach – Top 5 beaches in the world
Like a Dream…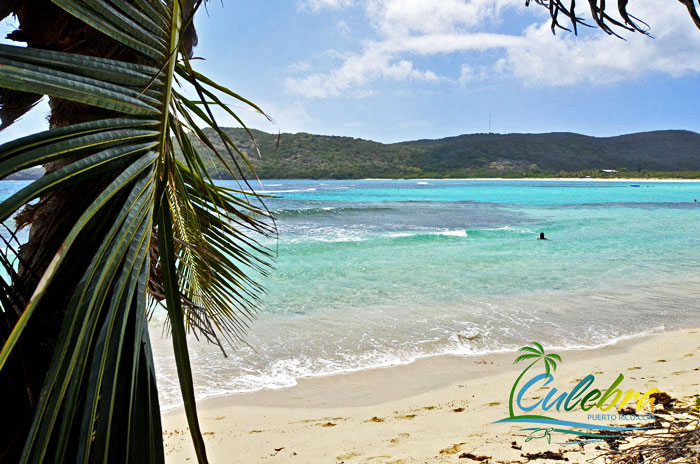 One of the best beaches in the world is within your reach.  Flamenco Beach is one of the few beaches in the world consistently ranked and included on the "Best World Beaches" lists.  No need to travel across the globe to enjoy this special treasure; it's right in the Caribbean, one of the offshore island treasures of Puerto Rico.
If you get to Culebra by plane, you'll immediately know Flamenco Beach is special.  From the air you'll appreciate the clarity of the water, the stunning beautiful long stretch of sparkling white sand embraced by green rolling hills forming a perfect backdrop to a perfect crescent shape beach.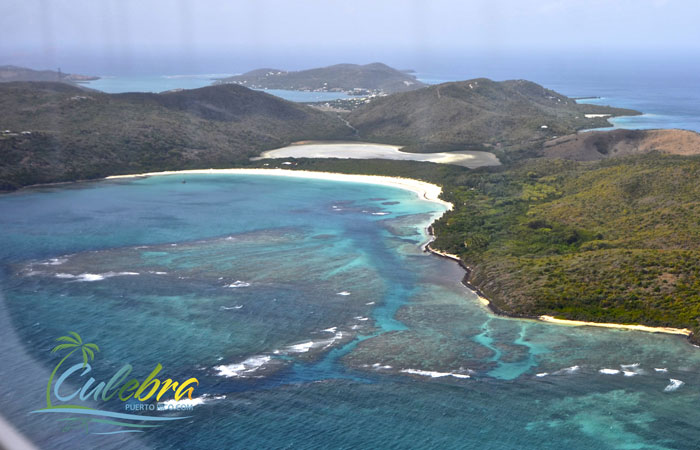 When you speak about one of the top beaches in the world, it's hard to put into words what makes Flamenco such a special place.  Most travel guides and media outlets trying to sell you a destination tend to use words very loosely.  Photos simply can't capture the beauty of this place.  So take a leap of faith and come to Culebra, you won't be disappointed.
Once you get here, just about every beach you'll visit after, may become a disappointment, one of the reasons seasoned travelers have chosen to make Culebra their secret vacation spot for decades.
What makes Flamenco Beach so special?
The Water & Landscape
Perhaps is the perception of swimming on a giant crystal clear pool with gentle waves, and various shades of cerulean and turquoise blues.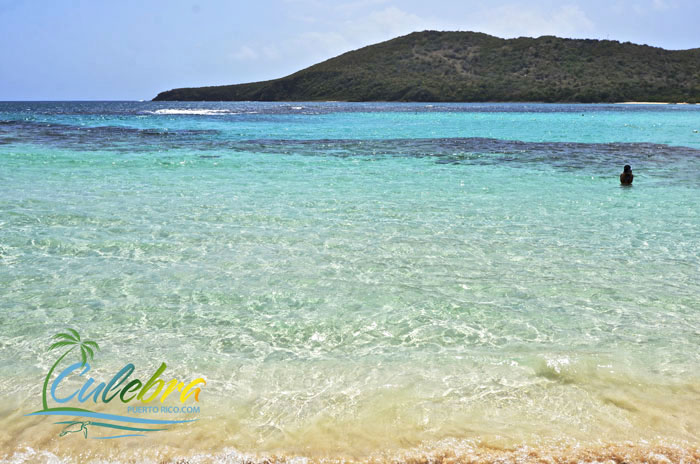 Perhaps, it's the perfectly landscaped shore with green rolling hills, lush tropical plants and no buildings in sight that make it so special.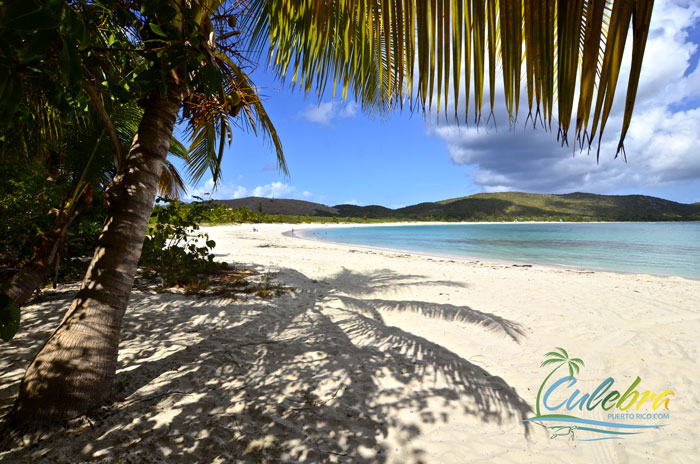 The sand of Flamenco is light and white, making romantic long walks on the beach a soft treat to your feet.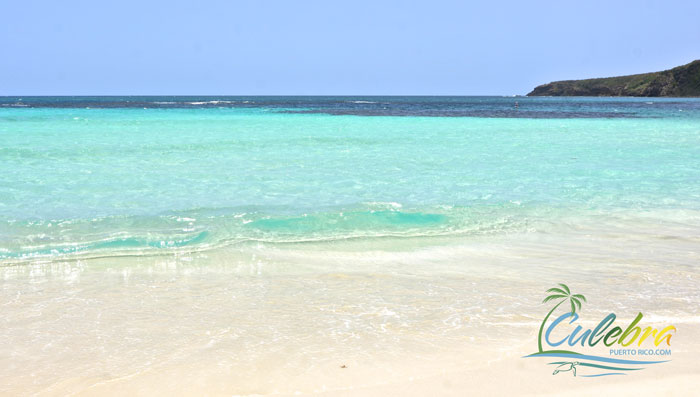 As you step on Flamenco, you may find the sand beautifully undisturbed with few or no steps on the sand.   It is, as if the island knows that visitors come here to unwind and enjoy a place that seems untouched.  The evening soft breezes erase the steps from the day before.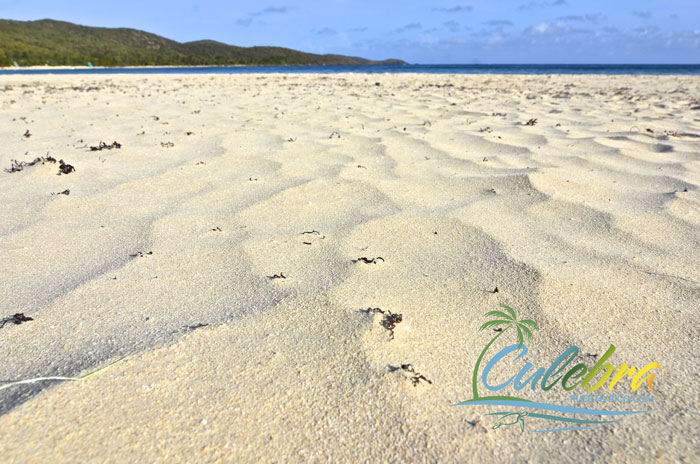 Flamenco beach only gets crowded during holidays and summer months, during winters the beach is gorgeous and quiet.  Even on a "busy day", you'll find plenty of sand to lounge, relax and call your own.
Perfect for Honeymooners & Lovebirds
Flamenco Beach feels really big, yet provides many intimate spots, perfect for love birds.  If you're longing to feel like you have your own piece of paradise, you won't have a problem finding a quiet spot even on a busy summer day.   If you want a more private beach setting for two, enjoy Flamenco and then head over to Playa Soni / Zoni Beach, Punta Soldado or Brava Beach where you can enjoy even more solitude.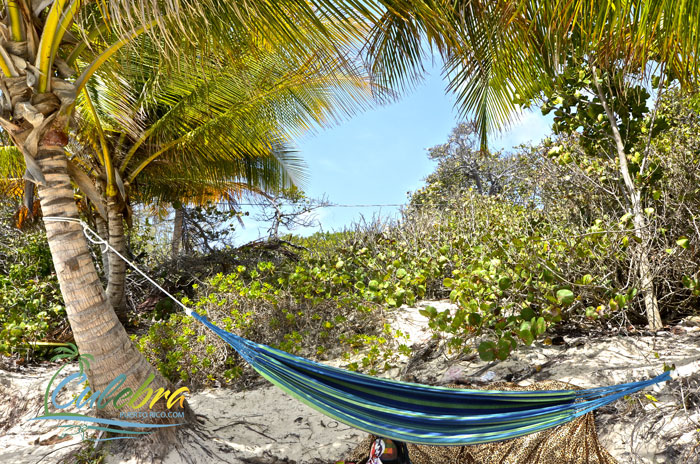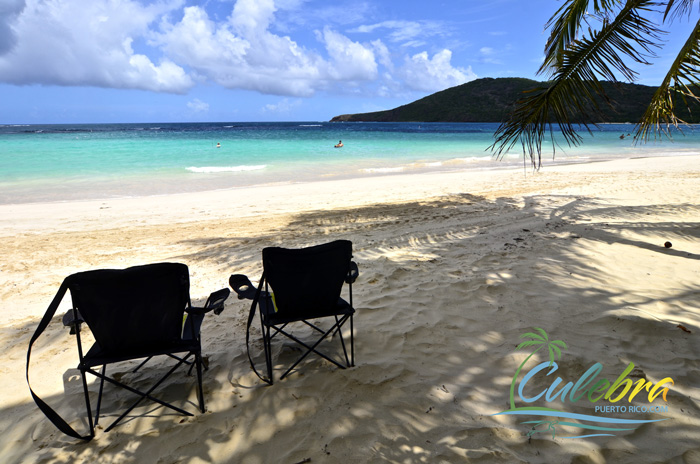 Snorkeling at Flamenco Beach
At Flamenco, not only can you go for a wonderful refreshing swim, bring your snorkel gear and explore the coral reefs below the surface.  Swim with turtles, manta rays and a variety of colorful tropical fish.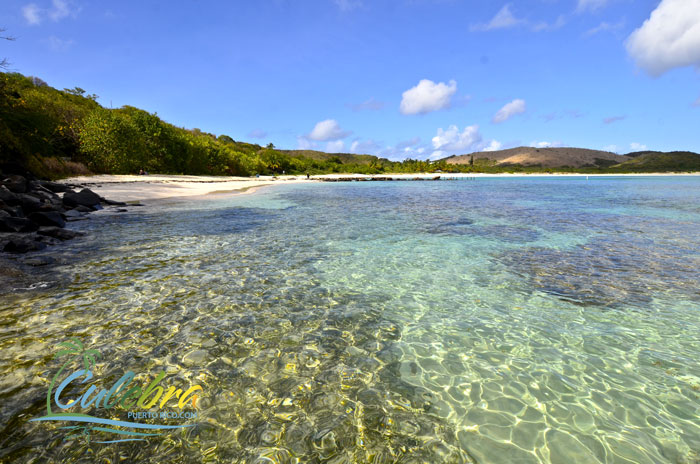 On the other side of the stone bridge and "natural toddler pool", (the far right end of Flamenco), you can disconnect from the world and explore the coral reefs beneath.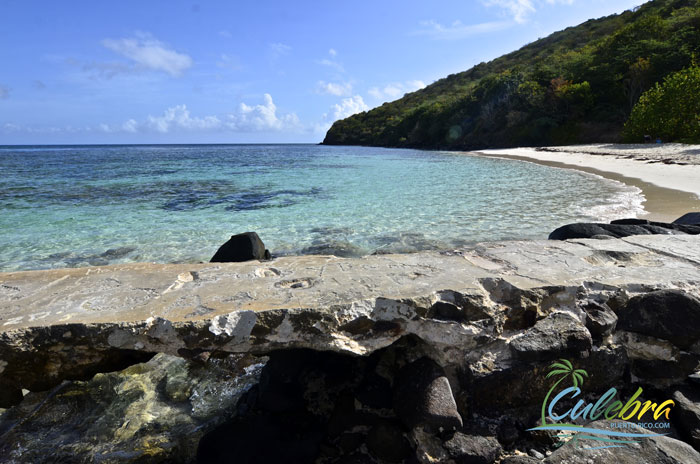 Perfect for Families
Safe waters for swimming and snorkeling beginners, kid friendly food, bathrooms, outdoor showers, easy beach access and an ambiance that allows families to reconnect. If you have small children, Flamenco's waters are calm with gentle waves with many shallow areas perfect for the whole family to enjoy a day at the beach.  On the far right end of Flamenco, you'll find the most perfect spot for toddlers.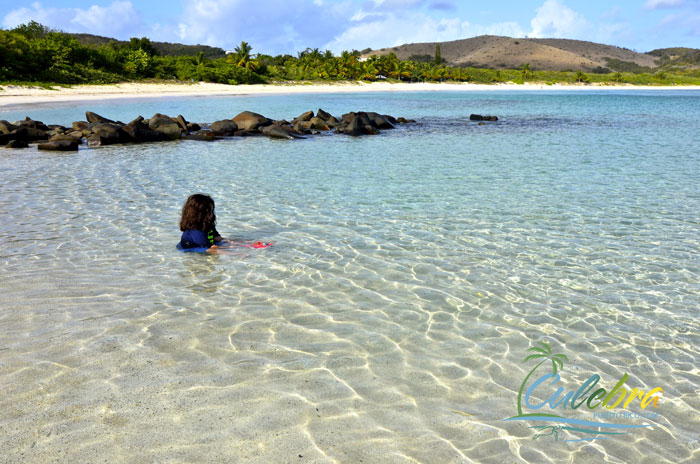 A very shallow and crystal clear pool with marvellous views.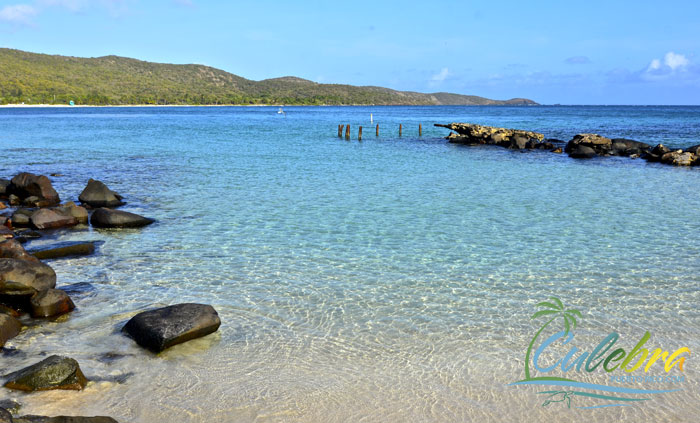 The Navy Tanks at Flamenco Beach
A famous and unique landmark at Flamenco beach you won't anywhere else on earth is the old Navy tank parked on the sand, a reminder of the past when the United States Navy used the island as a gunnery range. The residents of Culebra protested and four years later in 1975, the US Military left the island and sadly moved to the sister island of Vieques.  The locals have turned the old tank into a continuously changing community art project.   If you have children, be sure to make the walk to the tank.  Along the way you'll see another tank on the interior of the beach.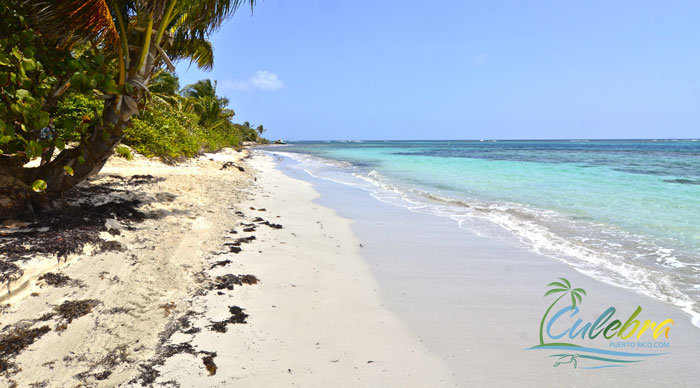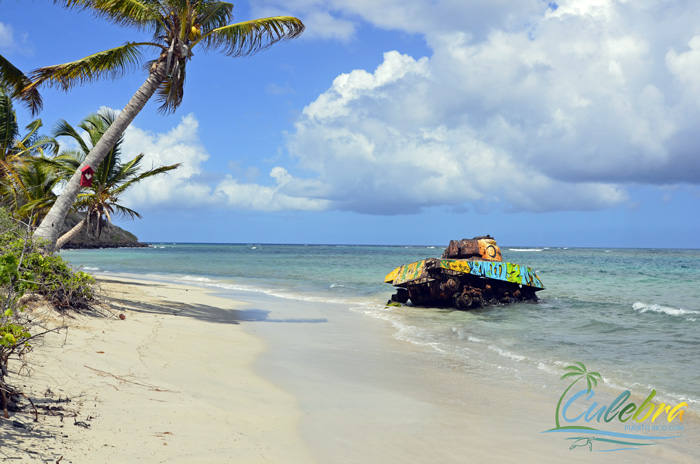 More photos of Navy Tanks at Flamenco Beach, Culebra, Puerto Rico.
Food at Flamenco Beach
When you get hungry, you can head to the outdoor food stands serving our Puerto Rican street food so yummy that it's worth leaving the sands of Flamenco for a little while.
Among popular food choices Puerto Ricans love offered at Flamenco are:
Empanillas (pastry fried turnovers filled with beef, chicken, crab, shrimp and shark and more).
Alcapurrias – made of fried plantain or yucca dough filled with ground beef.
Surrullos – our son calls them "Puerto Rican fries".  At Flamenco, the big surrullos are sold.  Typically, they are finger size and dipped in mayoketchup (a delicious mix of mayonnaise and ketchup).  They are made with corn flour and filled with a string of cheddar cheese in the middle and fried.
Pinchos are skewers, Puerto Ricans love pork and chicken but they're also made with fish and served with tostones (fried mashed plantains).
You can also enjoy fish platters.
Tostones – twice fried mashed plantains.
For the less adventurous, you can also find pizza and more typical American foods.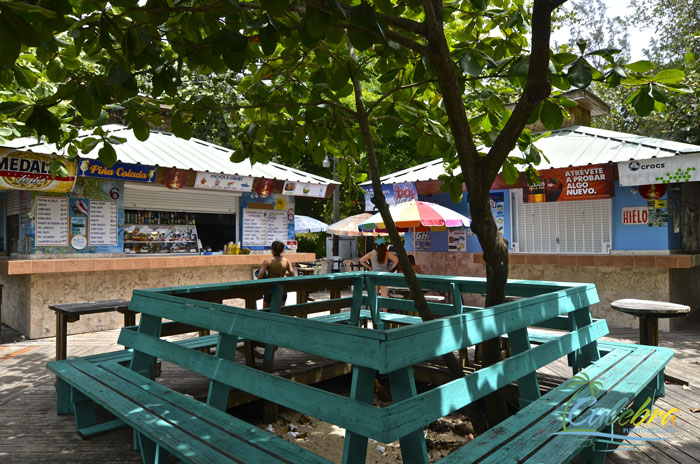 Camping at Flamenco Beach
If you think it's not affordable to enjoy one of the best beaches in the world…you can pitch a tent right on the beach and enjoy $500 night beach access accommodations for a small fraction of the cost.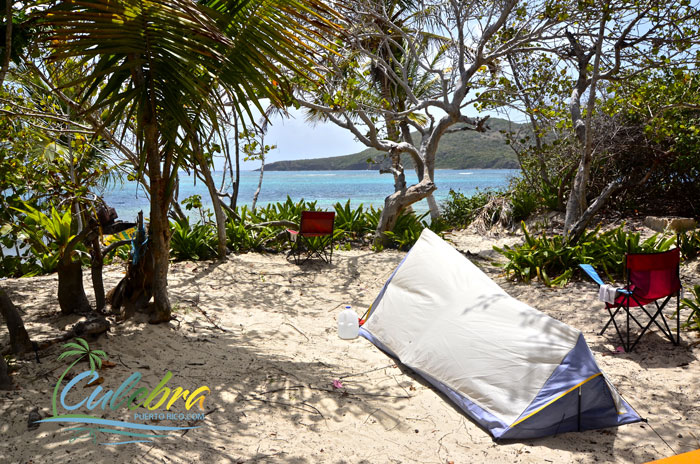 These are some of the reasons why Flamenco Beach is such a special place…again, words and photos can't really capture the splendor of the place. You have to be here to experience it.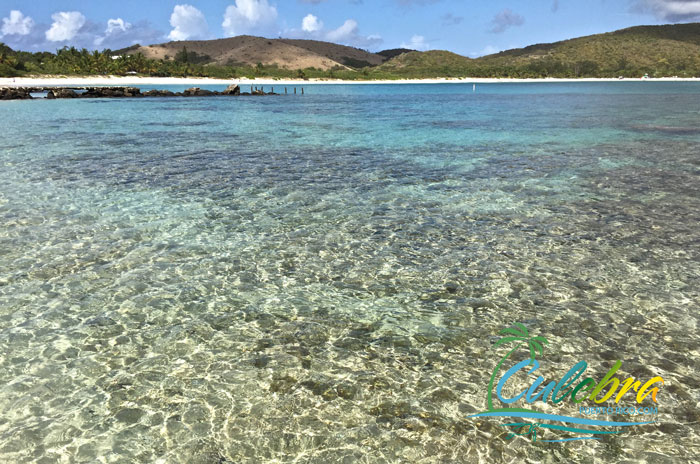 More Photos of Flamenco Beach
Map & Directions – Flamenco Beach, Culebra, Puerto Rico
Flamenco offers easy access and great facilities.  If you're not renting a vehicle, whether you arrive by ferry or plane, there will be plenty of taxis offering transportation to Flamenco Beach and other popular beaches in Culebra (Zoni / Soni, Tamarindo).  If you're driving from the ferry or the airport, just head down the main road which is 251.  Follow the road north, all the way to the end.
#1 on the list of Best Beaches in Puerto Rico
Puerto Rico > Culebra > Culebra Puerto Rico Beaches >  Flamenco Beach – Top 5 beaches in the world