Snorkel with Turtles in Culebra
Zoni Beach…a wide, long, living canvas with dazzling shades of blues, like no other beach under the Puerto Rican flag.  From your lounge chair, you can enjoy views of the archipelago of Culebra, the islands of St. Thomas and Tortola in the distance.  Bring your favorite book, take a walk and claim a shaded spot under a leaning palm tree and relax to the sounds of the surf without crowds even on a busy day.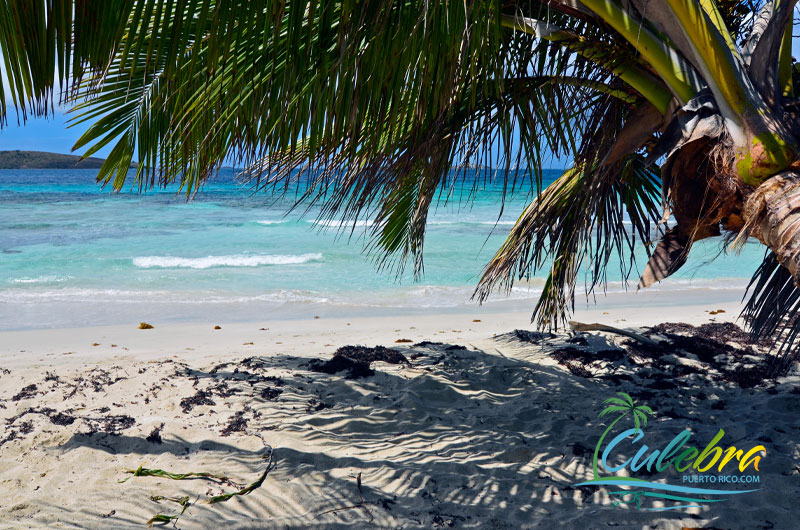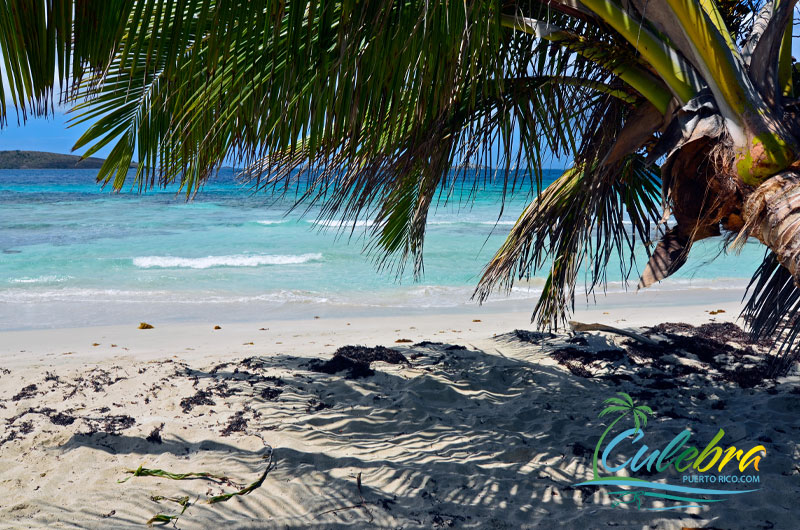 Zoni Beach is the second most popular beach in Culebra, an option for beach lovers wanting a more quiet and secluded feel than Flamenco.  Zoni, called Playa Soni by locals is best when the tide is low and the water is calm from late spring until early fall.  In contrast with Flamenco, there are no facilities at Zoni Beach.  Bring everything you will need at the beach, be sure to bring enough sunblock, water, and snacks to keep you comfortable.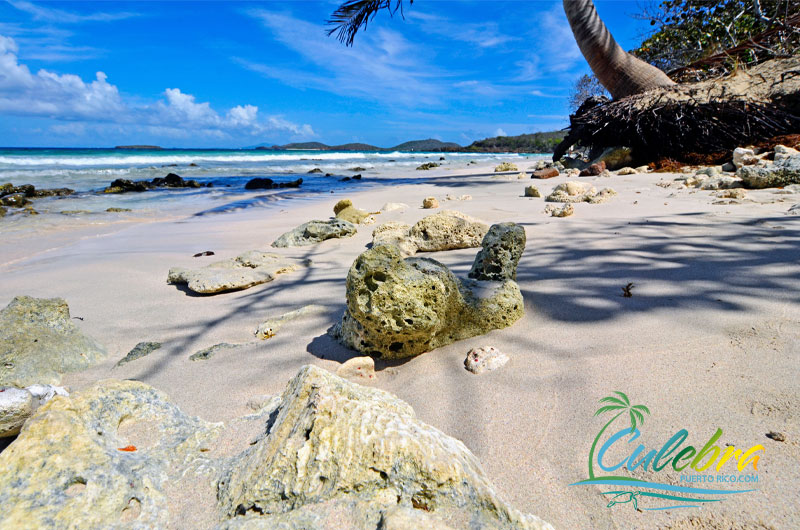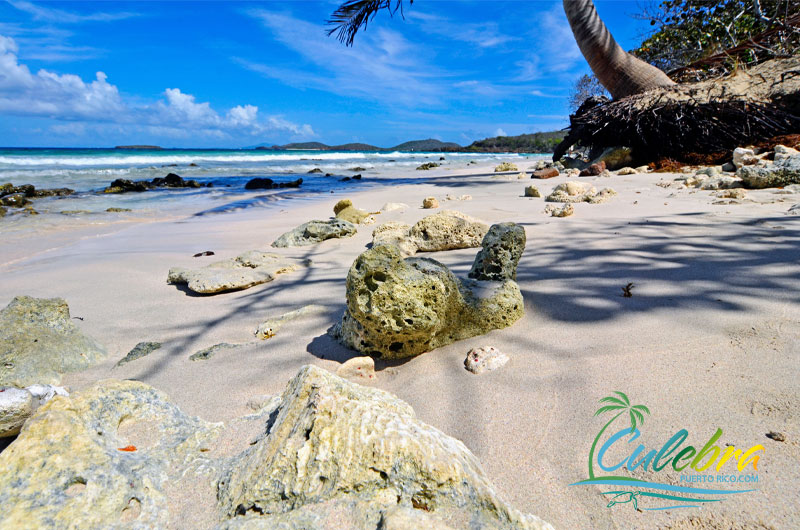 If you love taking long walks on the beach…  Playa Soni ought to be on your vacation list.  Zoni Beach is perfect for visitors seeking a quiet beach with easy access.  During your walk, you'll get to appreciate just about every shade of Caribbean blue.  You'll hear the singing of birds as they fly above dancing to the cool salty breeze.  Zoni Beach is great for beachcombing with little treasures from the sea washing onshore.  Certain areas of the beach are rocky, so bring beach shoes for the most comfortable experience.
On your way to Zoni Beach, be sure to stop at the Museo El Polvorin to learn about the history of Culebra.  The drive to Zoni is very scenic and relaxing; you'll drive along Ensenada Bay, enjoy views of the coastline, see the island of Culebrita, the main island of Puerto Rico, and St. Thomas in the distance.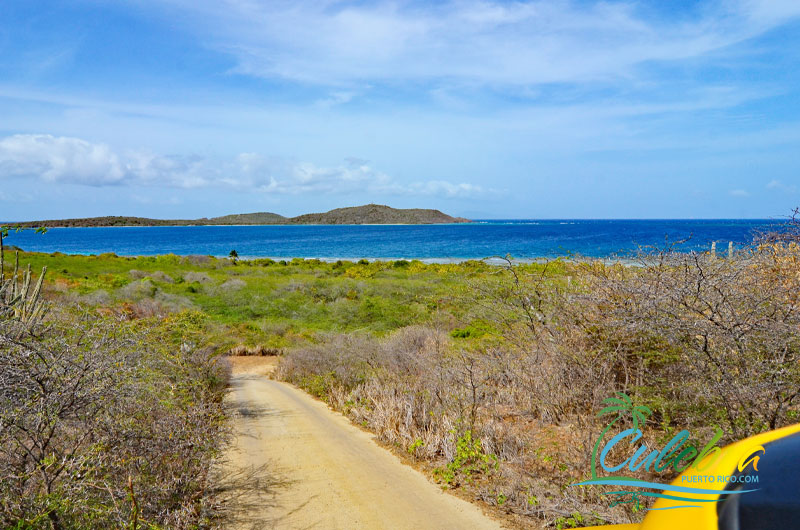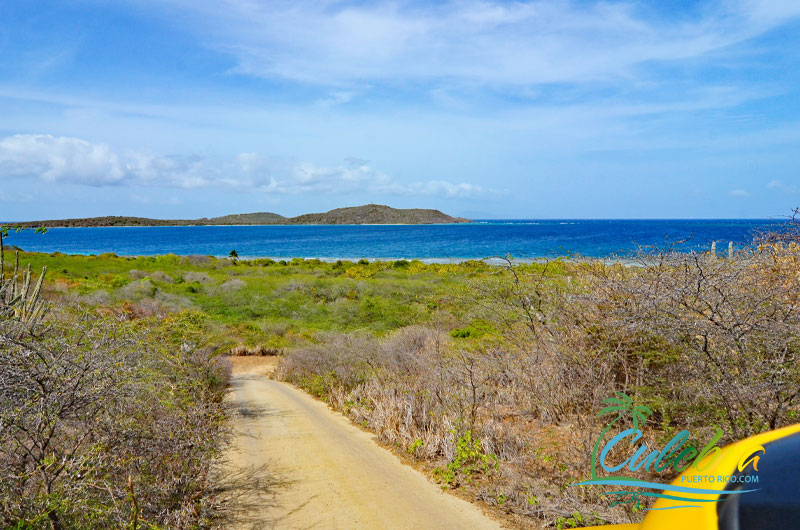 Top Rated Tours to Flamenco Beach from Fajardo, Puerto Rico
Zoni Beach… A Turtle Nesting Site
Zoni Beach / Playa Soni is a Leatherback and Hawksbill turtle nesting site during the months of April through June.  Volunteers who find turtle sites will tape off the site.  Please refrain from walking on/around the areas.  If you happen to see any sea turtles or signs of nests on the sand, please do not touch or disturb them.
The South Side of Zoni Beach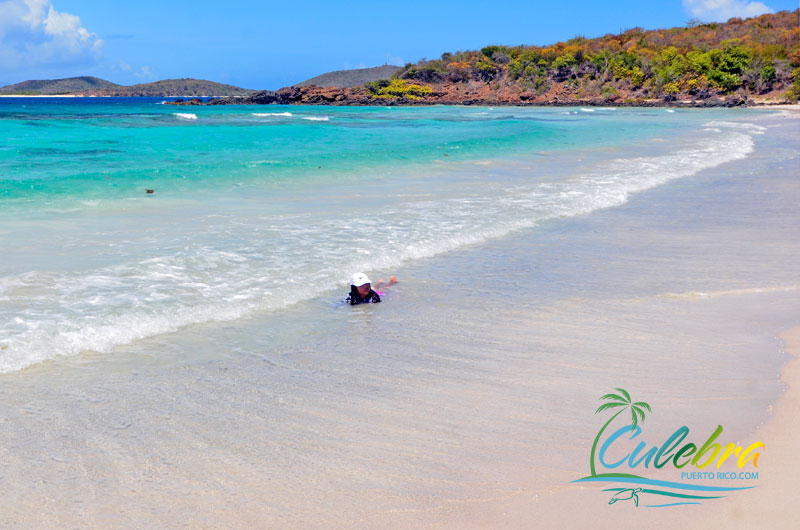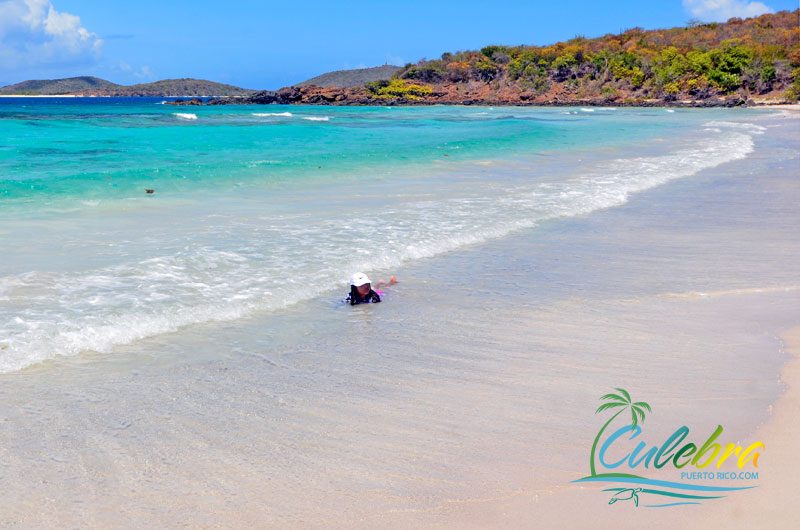 If you walk towards the south side of Playa Soni, you'll find cozy spots under leaning palm trees and sea grapevines where you can hang a hammock for that perfect dream tropical experience.  The beach area is more narrow on the right side but feels more secluded and private.  Laying under the shade of a leaning palm tree with no one around…it doesn't get any more dreamy and romantic than this.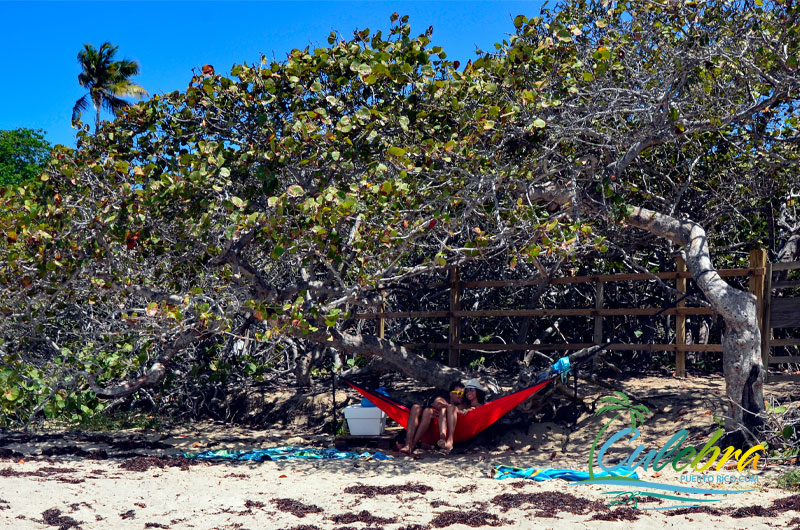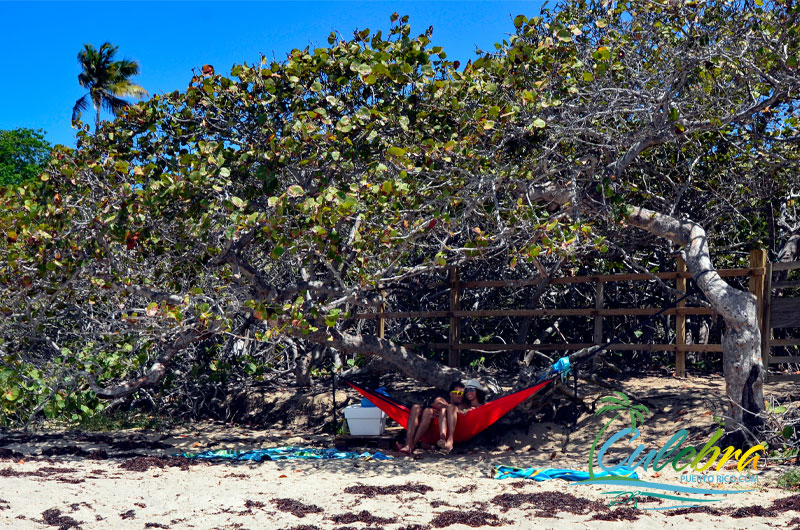 The surf gently washes ashore and invites you to go for a quick dip before continuing to explore this romantic beach.  The south side has the best spots for bathing and swimming.  At the end of the beach, you'll find beautiful rock formations, crystal clear waters, and the best vantage point to admire the breathtaking beauty of this one-of-a-kind beach.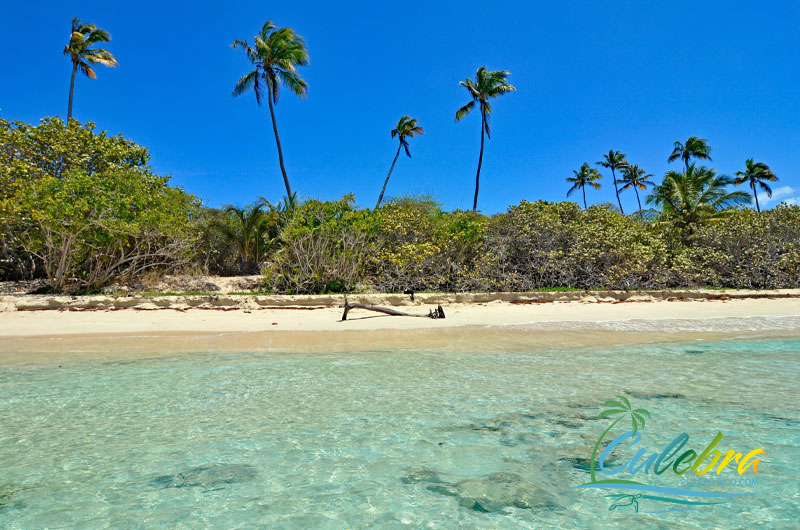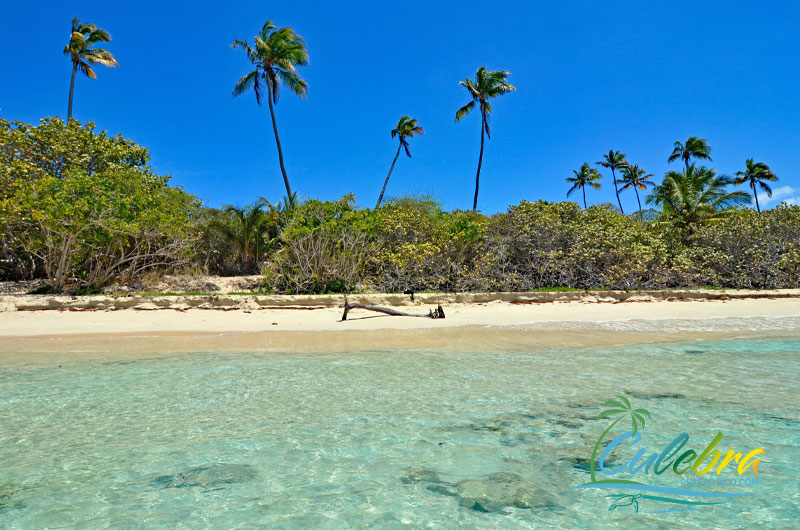 If you want to get in the water and swim a little, this spot is the best.  Keep an eye on your children at all times, the waves are playful in the summertime, but in the winter they get rougher and may not be safe to swim.   No worries, there are plenty of beaches in Culebra that are great for swimming and snorkeling all year round.
The North Side of Zoni Beach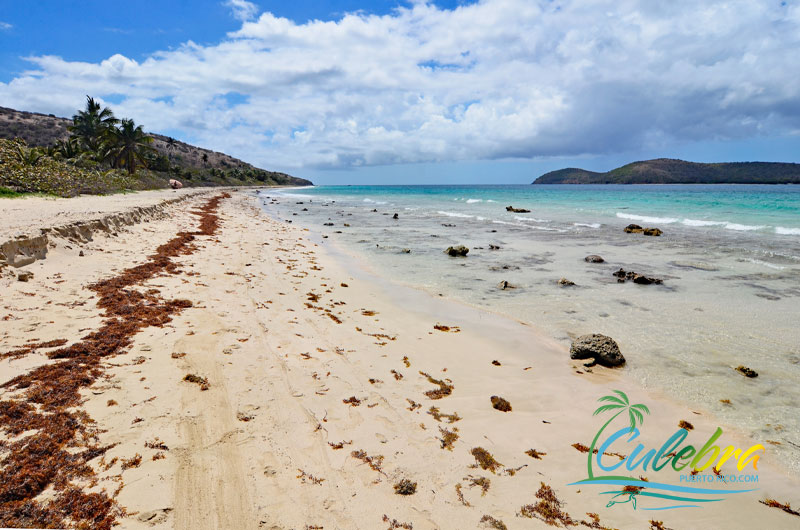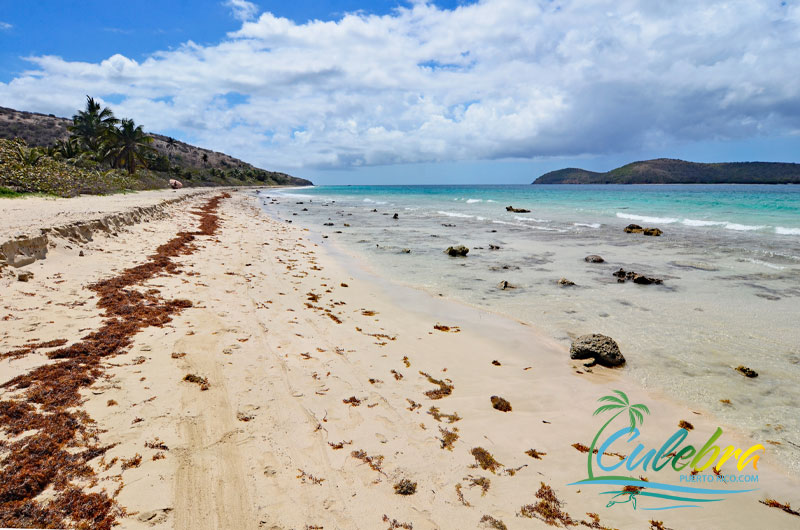 The north side of Zoni Beach has a wider beach.  In the summer months, you may find families playing beach volleyball and other beach sports on the sand.  Beach shoes are recommended, various areas on the beach and underwater have a rocky bottom.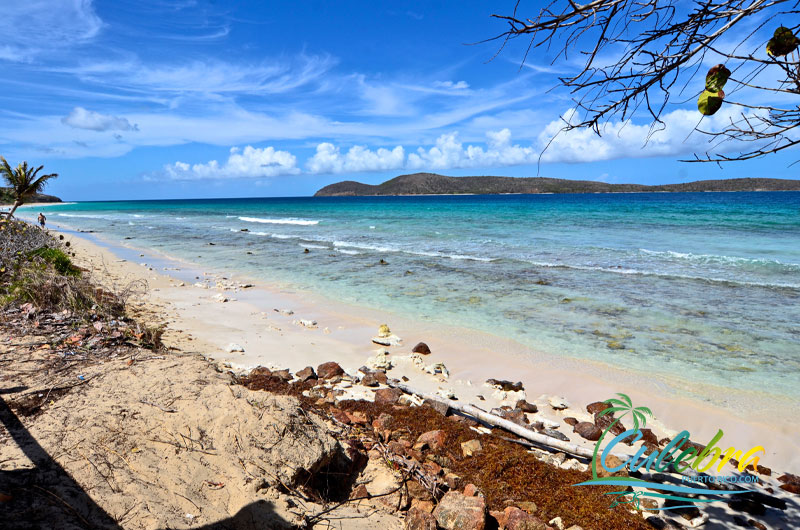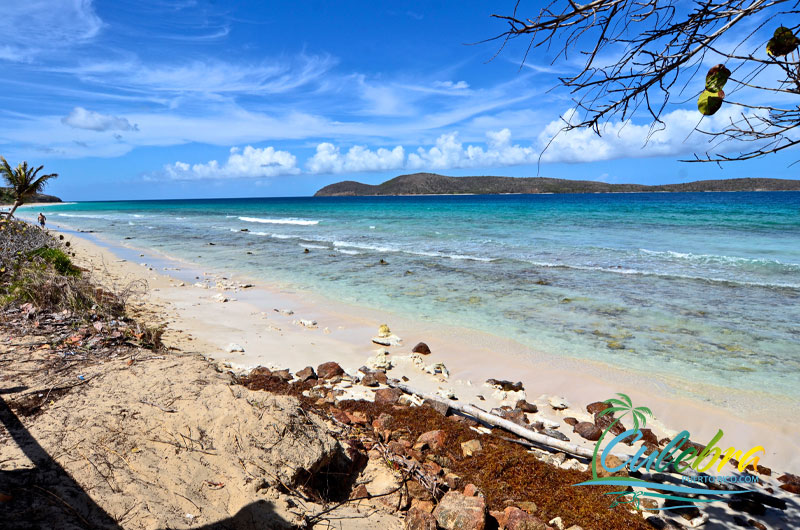 At the end of Zoni, sit on a rock and enjoy breathtaking views of the entire length of the beach and the Culebra archipelago.  Just a few more steps and you'll be at Tortola Beach. The color of the water tempts you to get in, but be careful, it gets deep very quickly and there may be dangerous undercurrents.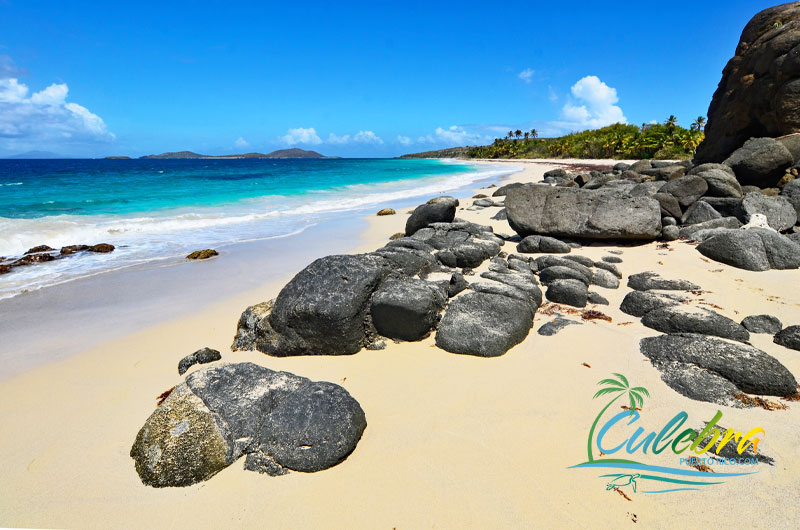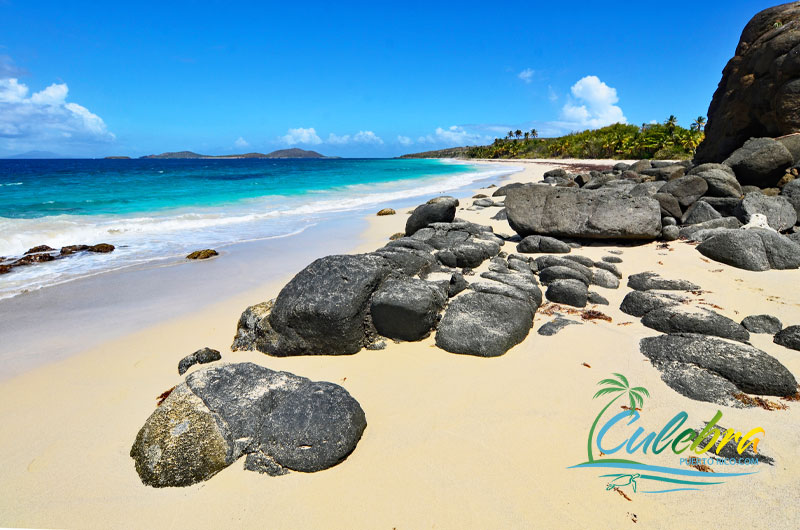 Safety Warning at Zoni Beach
There are no lifeguards in this area or at Zoni Beach, everything you do here is at your own risk. 
Map - Playa Zoni - Culebra, Puerto Rico
Beach Access: Follow Rt. 250 east and north until it ends at the beach parking lot.
More Photos of Playa Zoni
Culebra, Puerto Rico