Puerto Rico  >  Culebra  >  Thing to do in Culebra Island, Puerto Rico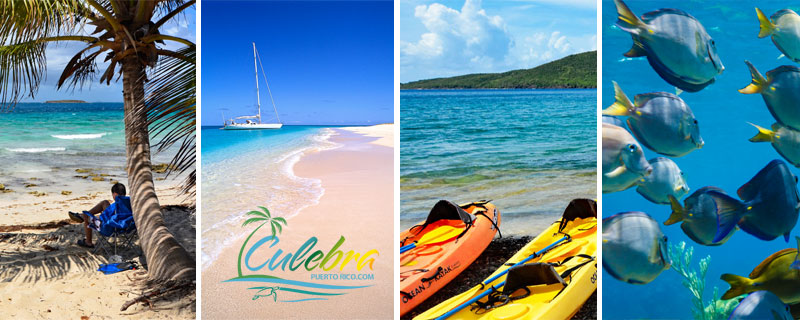 Instead of seeking for a WiFi Zone in Culebra, plan on bringing plenty of sunblock, an underwater camera and snorkel gear, you'll have amazing experiences worth sharing with friends and family after you leave.
Visitors are encouraged to take a flight to Culebra instead of the ferry in order to have more time on the island.  At least two nights in Culebra are needed to enjoy the island.  Like many other visitors, the first trip to Culebra inspires people to keep coming back year after year.
Before going through the list take a look at the following video, a short preview of some of the amazing scenery that will surround you as you have fun under the Puerto Rican sun.
Top 5 Things to Do during your visit to the island of Culebra.
The top five activities are perfect for visitors that only have one day in Culebra.
#1 – Swim, Dream and Relax & Play at Flamenco Beach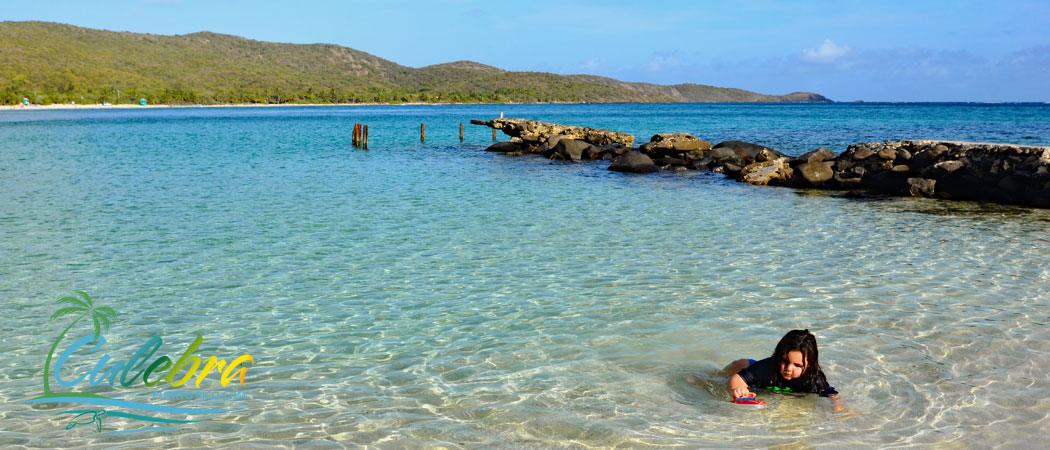 Flamenco Beach is the main attraction on the island of Culebra.  Included on the world's best beaches lists, this ought to be your first stop and one you can't miss. The only problem with Flamenco will be convincing yourself to leave in order to explore the rest of the island.  Be sure to walk to the left end of Flamenco to see the Navy tanks.  If you don't get enough strenth to leave Flamenco, just stay and enjoy a day of swimming on clear waters, snorkeling to explore the coral reefs and enjoying great Puerto Rican food.  More about Flamenco Beach, Culebra, Puerto Rico
#2 – Go Snorkeling in Culebra
Culebra has been included on "World's Best Islands for Snorkeling", truly one of the few islands left...
…in the Caribbean with a healthy coral reef system.  We both love and hate to tell you about it, people tend to destroy these treasures for lack of education and conscience. We beg that you help us preserve our reefs by never touching, stepping, anchoring, fishing or taking anything away.  Best beaches for snorkeling on the main island of Culebra are Carlos Rosario, Melones, Tamarindo, Flamenco, & Punta de Soldado.
#3 – Glide alongside turtles in Culebra
Glide alongside turtles on the clear waters of Flamenco and Tamarindo, beautiful beaches with magical...
… experiences underneath the surface.  If you don't see any turtles at Flamenco, then head over to Tamarindo, typically there's a higher number of them there.
#4 Driving Around the Island
Many travelers staying on the main island of Puerto Rico head to Culebra for a day trip with Flamenco Beach on their main attraction on the list.   We invite Culebra's visitors to rent a jeep or golf cart and simply take an hour to drive around the island. We won't say more… because once you drive around, we can only tell you that you'll be going back in order to explore all those amazing beaches and off the beaten paths you saw for a moment as you took a quick drive.  Be sure to have your camera ready, you'll want to photograph colorful homes, the beautiful Ensenada bay, the green rolling hills, spectacular sweeping vistas, and the cute chicken crossings.  More about getting around Culebra.
Culebra's beaches are turtle nesting sites, the sand on the shores are home to sea and land creatures.  You're welcome to explore our island, we just ask that you're a good guest by helping us protect our shores.  Please don't drive or park on the sand, that includes dirt bikes and golf carts.
#5 – Watch the Sunset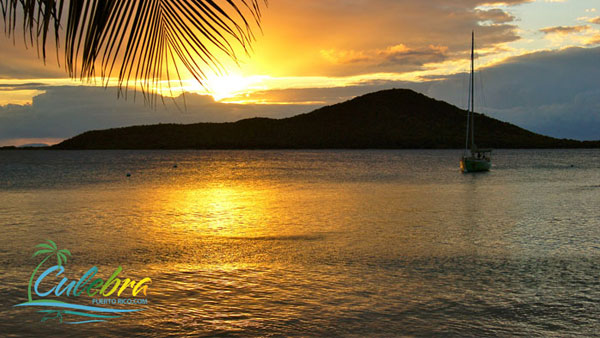 You spent a full day in Culebra, take a half hour to just sit down and admire a live unique painting...
…being brushed and unveiled right in front of you…one more memory to add to a perfect day in Culebra.  Head to Melones Beach, one of the best spots on the island to watch the sunset with easy access.
If you're fortunate enough to spend more than a day in Culebra, following are more activities to enjoy.  In Culebra, a simple activity can turn into an extraordinary adventure.
More Things to Do in Culebra Island, Puerto Rico
Kayaking in Culebra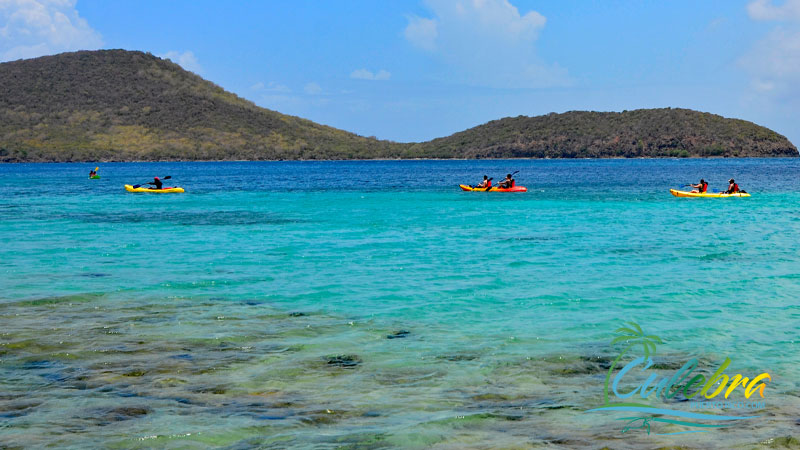 Kayak on the west coast beaches along the Luis Pena Cay, the waters are calm and very clear.  You'll want to pause along the way to take in all the wonder around you…you'll wanna take a kayaking break to put on your snorkel gear in order to explore the gardens below the surface.  Book a tour with a friendly knowledgable tour operator for both safety and making the most of your time in Culebra.
Try a Hearty Puerto Rican Meal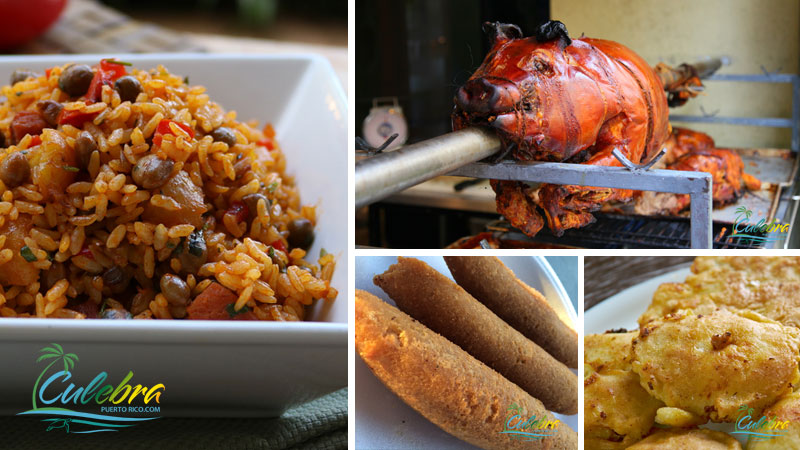 Dine or order take out to keep exploring...
Right around the square in Dewey, you can find the most popular restaurants in Culebra.  Take a walk around, check out the menus and enjoy a great meal in a casual authentic island style.  If you rather spend most of your time exploring, there are various places that serve traditional Puerto Rican food, perfect for getting it to go.  As you drive around, you'll also find a few food trucks that serve amazing food at local prices. 
Go Hiking…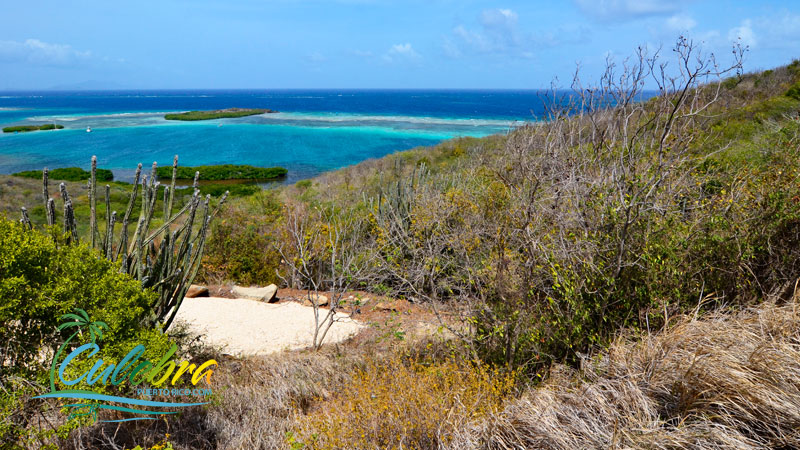 Those that enjoy walks on nature trails with a reward at the end will fall in love with Culebra...
…The island offers various hiking trails leading to gorgeous secluded beaches with excellent snorkeling and scenic views along the way.  Among some of the popular hiking / walking trails are the trails leading to Brava Beach, Resaca Beach trail (more difficult), and Carlos Rosario trail leading to the best snorkeling, The offshore island of Culebrita offers various hiking trails to lighthouse ruins with heavenly views, the tidal pools and beaches.
Culebra and its archipelago of islands offer about 50 dive sites...
…from shallow to 75 feet with excellent sea life and pristine conditions.   Whether you're a beginnner or more advanced diver, Culebra will over deliver expectations.
Walk around Dewey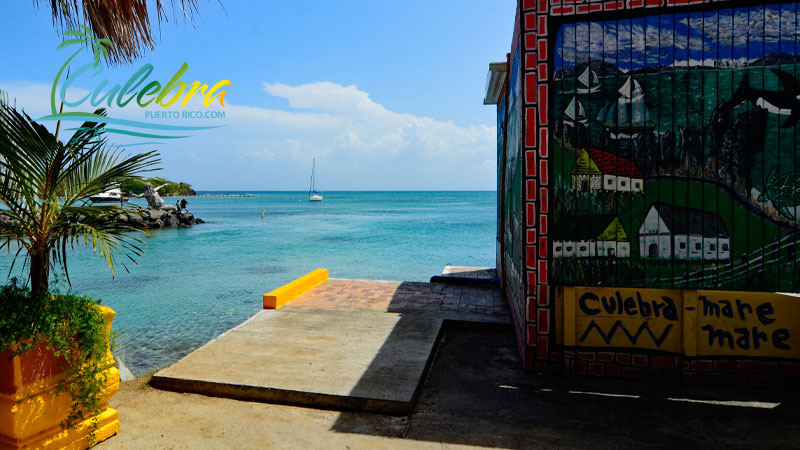 Dewey is the only town in Culebra, a cute little one...
…A great way to get to know a destination is on foot, with just one hour, you can get a feel for the town.  Go to restaurants locals go, grab a cup of coffee and quesito and sit at the little plaza, walk across the lift bridge, take a walk to the marina at Ensenada Bay, visit the local shops and don't forget to stop by the tourism office for a bag with goodies to help you plan your stay.
Do a Little Shopping in Town…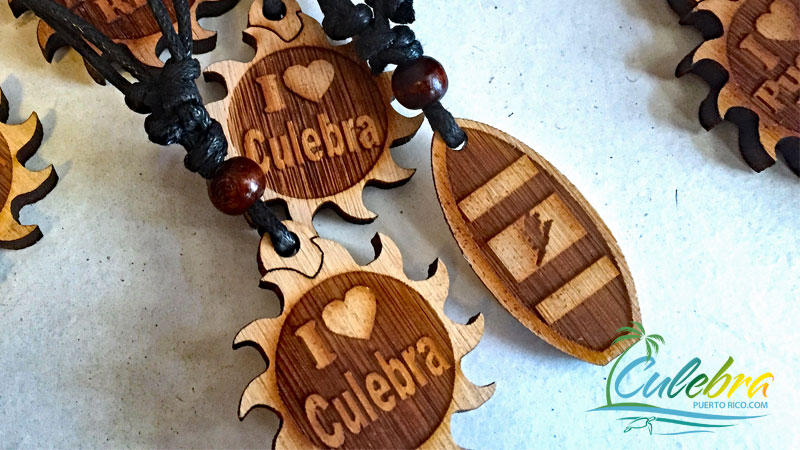 ...please to stop by and support friendly locals ...
In Culebra you won't find a boardwalk with souvenier shops, here there are no big chain clothing stores or supermarkets, residents and repeat visitors prefer it that way.   While you're walking around the town of Dewey, please stop by and support friendly locals who proudly sell unique pieces of art, paintings, hand made clothes and more. For the ladies, be sure to visit Mercedes, her shop is located on the shops next to the tourism office; most of the pieces are hand made, fair prices and sure to start a conversation with friends about good times spent in Culebra.
Photography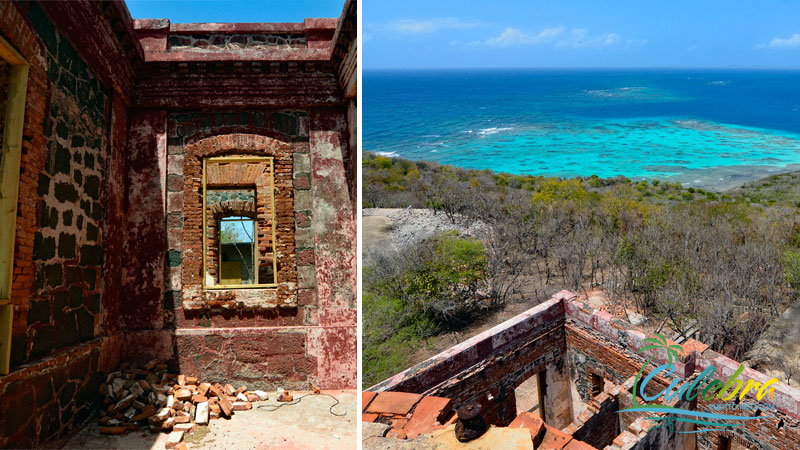 ... the beauty of Culebra makes it simple to capture gorgeous landscape scenes...
We are not professional photographers, we just have a nice point and shut camera, the beauty of Culebra makes it so simple to capture gorgeous landscape scenes.  As you look around this site or do a Google image search you'll see the unique natural beauty and dramatic landscapes of this island.  Professional photographers could spend weeks here capturing all the breathtaking corners of Culebra.  Whether you're a professional or just simply love sharing pictures with your friends, you'll run out of time and space on your digital camera / smartphone before you run out of places to photograph.
Book a Day Trip to Culebrita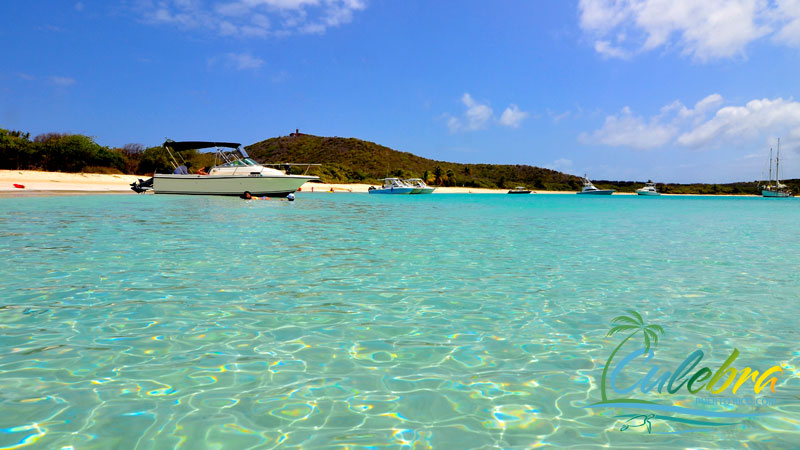 The offshore island of Culebrita is a mini Culebra with its own enchantments...
…The crystal clear waters surrounding Culebrita are captivating with vivid tones of blue and green.   A charter guide is the best way to enjoy the best of Culebrita, they'll take you to Tortuga Beach, the Jacuzzi / Tidal Pools and on a guided scenic hike to the lighthouse ruins.
Boating & Sailing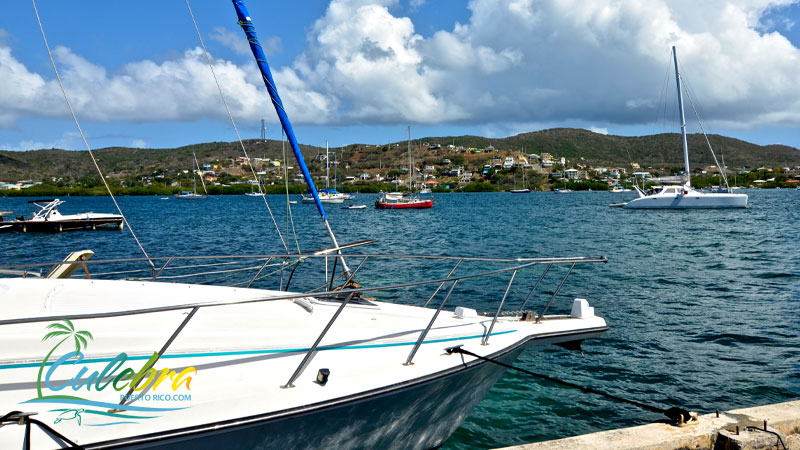 Culebra is actually an archipelago made up of 18 ...
…islands / cays / keys, making it a preferred destination for sailors and boaters.  Schedule a boat charter for more excellent snorkeling spots, fishing, and the opportunity to visit more beautiful beaches only accessible by boat. Be sure to make it to Culebrita, there you can enjoy a day basking under the sun at Tortuga Beach, go for a hike up to the ruins of one of the oldest lighthouses in the Caribbean.
Get to know Culebra's Past…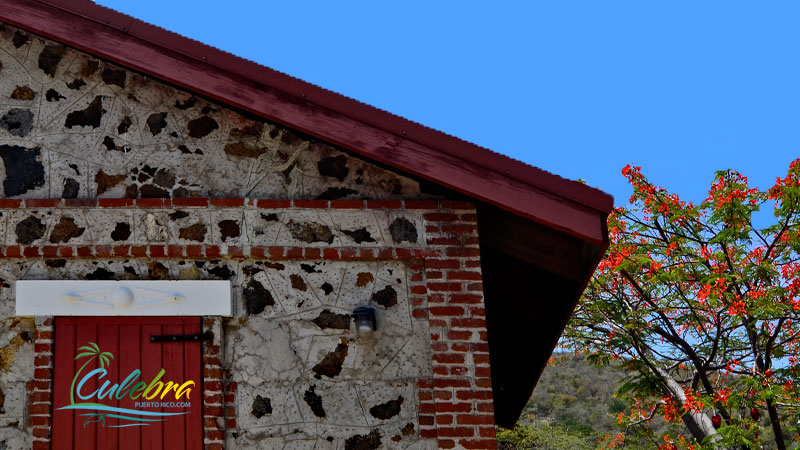 On your way to Zoni Beach, be sure to stop by...
…El Polvorin Museum where you can learn about the history of Culebra, watch a few documentaries, purchase some great souvenirs and books to take home.
…will not disappoint
The waters around Puerto Rico and its offshore islands like Culebra are teeming with sea life.  Coral reefs and shallow waters lure in predators like bonefish, tarpon, snapper, jack, snook, grouper and king mackerel.  There are charters available for fly fishing or light tackle fishing for these types of fish.
If you have your own gear, surf fishing can yield good results using live bait or bucktail jigs.
If you desire to go deep sea fishing, charters are available that target tuna, sailfish, wahoo, kingfish, barracuda and mahi-mahi.
Culebra offers some great surfing spots...
…he few that get to ride the waves on these waters prefer to keep the best spots as a secret, various spots are only accessible by boat.  Mamacita's Guest House offers surfing classes for all ages on our pristine beaches. Here is a nice article on Culebra surfing.
Bicycling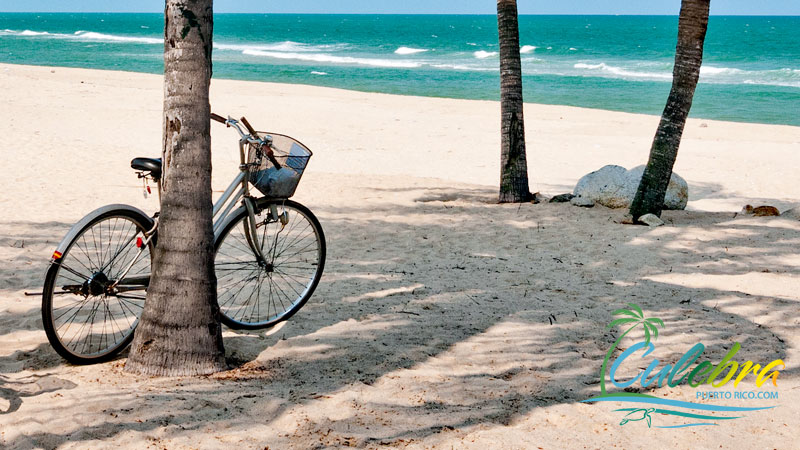 ...bicycling is a great option to explore the island...
…The island of Culebra is small offering easy access to popular beaches that can be reached by bike for those that enjoy the sport.  There are various hiking trails perfect for mountain biking for avid riders.  For those on a tighter budget, bicycling is a great option to explore the island. See bicycling rentals in our Getting around Culebra guide.
Paddleboarding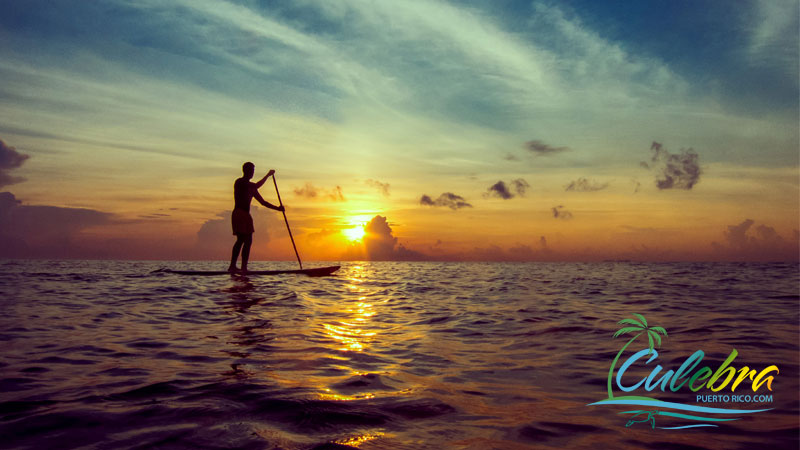 SUP has become a popular water activity in the Caribbean...
…While the Condado Lagoon in San Juan is a very popular destination for paddleboarding in Puerto Rico, those wishing more tranquil settings head to the Spanish Virgin Islands of Vieques and Culebra. Culebra's waters on the west coast around the Nature Reserve are calm.  Bring your snorkel gear and be sure to take a break to explore the world underneath. Paddleboard on your own, schedule lessons or go on a guided tour.
Birdwatching / Birding in Culebra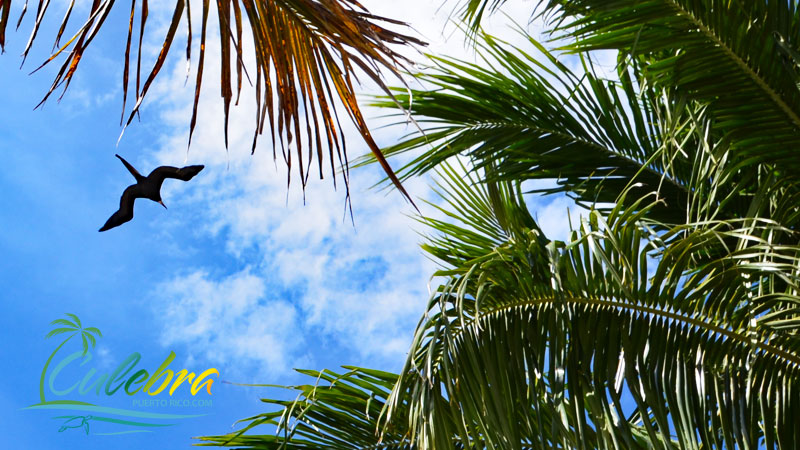 While you enjoy the beaches in Culebra or take a nature walk on the trails...
…you can observe and hear the sounds of native birds.  Culebra is a National Wildlife Refuge providing a safe place for a diversity of migratory birds throughout the year, a great place to go bird watching.
Lifeguards are only available at Flamenco Beach, any activities you do in Culebra are at your own risk. For your safety, do these activities with someone else, wear a floatation device and keep safety first.  To enjoy the best of Culebra with the safest conditions, book a tour or charter that will stay with you.