Culebra > Culebra Travel Guide > Getting to Culebra, Puerto Rico > Flights to Culebra, Puerto Rico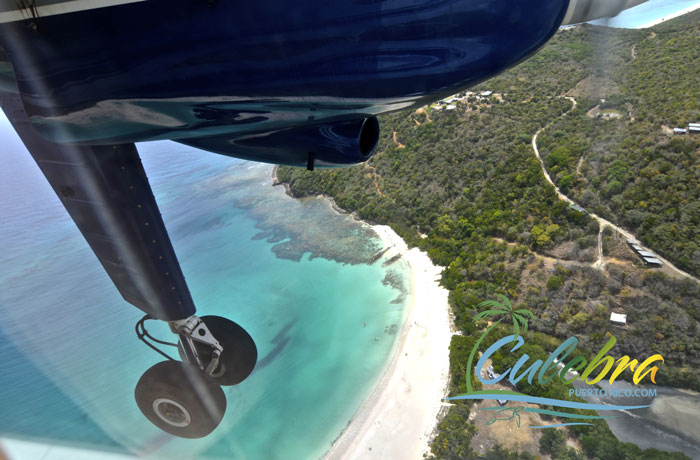 Flying is the fastest, most reliable and hassle free way of traveling to Culebra from the main island of Puerto Rico.  Book your flights to Culebra and prepare for a scenic ride to this breathtaking treasure.    As you approach the island, the rolling hills of the island and crystalline waters surrounding it, will make your heart pump from the excitement of knowing you'll get to spend days of your life exploring such a beautiful place.  Be prepared to fall in love with Culebra, unique beauty awaits.
The ferry ride is scenic but the flight is worth the money for getting a bird's eye look of this beautiful hidden gem in the heart of the Caribbean.  You'll fly over turquoise and emerald green clear waters, small inlets, cays, smaller islands and the breathtaking Flamenco Beach.
Flights from the USA:  No Passport Required for US Citizens. Major cities from the United States offer daily flights to the San Juan International Airport (SJU) offering competitive rates by various airlines.  If you take a morning flight and a connecting commuter flight from San Juan to Culebra you could be in Culebra in time for your hotel check-in.
International Travel:  Various cities from Europe now offer direct flights to capital city of San Juan, Puerto Rico.  Due the longer flight, we recommend you stay in San Juan for a few days to enjoy all the wonderful attractions and then head to Culebra for the remainder of your trip.
Flying Options to Culebra, Puerto Rico (see map below)
This is the fastest and most convenient option for travelers who wish to get to Culebra by check in time.  You can conveniently book your flights with a complete itinerary to Culebra from domestic or international cities.
Rates from San Juan International Airport to Culebra Airport – About $60 one way.
Right near the most popular tourist destinations in San Juan, you can take a commuter plane to Culebra.  This is perfect for travelers wishing to split up their vacation stay between San Juan & Culebra.  Airport is just a 5 minute drive from Old San Juan, Condado and a stone throw away from the Puerto Rico Convention Area District.
Rates from Isla Grande Airport to Culebra Airport – About $72 one way.
Ceiba is a town near the resort areas of Fajardo.
Flying can be a good choice for the following travel scenarios:
– For those travelers with a limited budget and traveling with a group, the savings may be worth flying from Ceiba to Culebra.  Be sure to add the taxi fee from San Juan of about $80.
– If you planned and taking the ferry to Culebra and it did not work out, be sure to have your smart phone ready to book a flight from Ceiba.
Rates from Ceiba Airport to Culebra Airport – About $44 one way.
Local Commercial Airlines offering flights to Culebra, PR
Cape Air
Cape Air has partnered with Jet Blue, American Airlines and United providing connections to Culebra from the international airport in Carolina (best known as the San Juan Airport).  You can conveniently book your domestic / international flights online with one click. For easy booking and flight deals check priceline.com

Phone: 800-CAPE-AIR (800-227-3247)
Flamenco Air
Vieques Air Link
Charter Flights to Culebra, Puerto Rico
Yes, you can afford a private charter flight.  If you're traveling with a group, the cost for the charter will cost about the same.  In addition you can enjoy the flexibility of a flight to meet your travel needs.
Air Margarita
(787) 529-2336, (787) 550-4294, (787) 724-4498
Email: smolina22@aol.com
Postal Address: 

PO Box 9343, 

San Juan, PR 00907
Map of Airports that Service Culebra, Puerto Rico